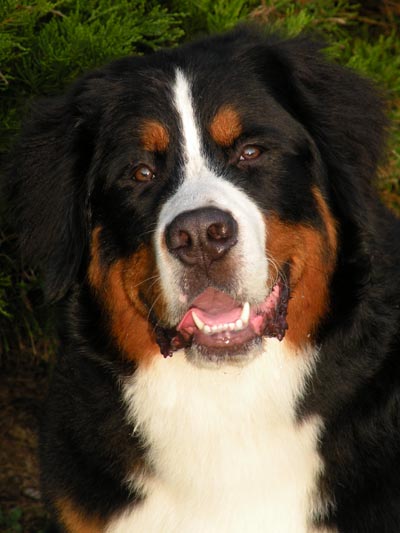 Thank you for visiting my web page. My name is Tracy Bolman. My husband and I have owned and raised Bernese Mountain Dogs for over 12 years. We have a small hobby farm on 20 acres in Holland, Michigan. We have three children; Ashley who is 20 and twins that are 17. They have played integral rolls in raising puppies with us. Not only do they help with the overall care of the dogs but they also have all their friends over to socialize the puppies and get them used to different sounds, people and places. It is a big commitment and we strive to do a good job every time. We only have one to two litters a year.
My first dog Keena came from Dr. Randy Carpenter. We were very blessed to start with such a beautiful, healthy dog with an amazing pedigree. Since then we have had Layla, and Ellie. Ellie came from the late Eve Menegoz and was a dream dog for me. She is something you wait years for as a breeder and to this day is one of the most beautiful examples of a BMD I have ever owned. Right now we have two females; Shiva who is Ellie's grand-daughter and Ruby who is a descendant of my first female Keena. Shiva has all of her health clearances (hips, elbows, heart and eyes) Ruby has her heart and eyes certified and will be getting her hips and elbows done in the spring of 2018 when she turns two. I pride myself on owning dogs that are the proper representation of the breed. Beautiful heads, tight eyes, strong bone, wavy coat, clear elbows, good hips and excellent markings. Although some believe markings are the key to a good BMD, health and personality should always be the top two priorities.
Years ago when I first became involved in the breed I would show my dogs and attend local dog shows. It was a chance for me to learn pedigrees, and see exactly what makes up a good sound dog. It gave me the ability to learn from some of the veterans that have owned and raised this breed for years. I really value what I learned and would not be where I am today without that knowledge. However after a few years it was clear that I did not enjoy the show seen. It kept me away from my family on the weekends and was a huge time commitment and financial commitment. It was also very difficult to see my dogs in crates all weekend when they would rather be running around on the farm with our family. I give credit to those people that have shown for years because I have seen what a huge commitment it is. Every breeder has a different idea of how to raise puppies. We have made it a family experience and something that we do together. We have plenty of references if you chose to adopt a puppy from us. I thank you for taking the time to read this. If you have any questions, please feel free to ask.