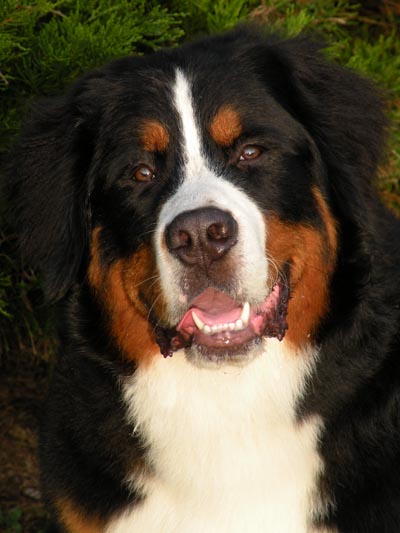 Welcome to the A.K.A. Bernese Mt. Dog web site. My name is Tracy Bolman and my husband Doug and I live in Holland, Mi. We have three children; Ashley who is 13 and twins Kristina and Austin who are 10. Thus, the name of our kennel "A.K.A." We live on 20 acres in Holland where we have three dogs, two cats and three horses.
I fell in love with Bernese Mt. Dogs 15 years ago when my girlfriend Cindy Bos came into the veterinary clinic where I was working (Maple view Animal Hospital) with her beautiful Berner Josie. It was not until 9 years ago that I bought my first Bernese Mt. Dog from Dr. Randy Carpenter. I named her "Keena" and she was an absolute blessing to our family. We kept one of Keena's daughters and her name is Layla. Layla is a ball of energy and loves to play on our farm. It is impossible to own just one Bernese Mt. Dog! In the summer of 2008 I bought "Ellie." Ellie is out of "Lowenzehn's Mystic Pizza" and "Ch. Yupp Vom Colmberg Waldchen." She is a beautiful dog with lots of bone; so far Ellie is everything I hoped for. We also co-own "Paxton" with Linda Wozniak who lives in Nova Scotia with him. Paxton is out of Keena and Karen and Harry Hodgson's "Callaway." Linda does obedience and conformation with Paxton so look for them in the show ring.
Our goal is to raise healthy, beautiful, well-socialized Bernese Mt. Dogs. We do not keep our dogs in a kennel; they live in our home with us. When we go on vacation the dogs come with us. We try to have a couple litters a year. Our children play a huge role in socializing the puppies from the first day they are born to the day they leave.

All our dogs are health tested. I take my dogs at 2 years of age to have their eyes, heart, elbows, and hips checked at Michigan State University. The OFA results for all my dogs are listed on "Berner Garde." This is a site which helps track the health of various Bernese Mountain Dogs.
All three of our dogs are considered "show quality." Keena comes from a background of champions. Keena and Gus have both been in the show ring and Layla will soon follow. However, showing is not my main focus. My main focus is having my dogs here with me on my farm running around with our family. All of our Bernese Mt. Dogs love to go camping and play in the water.
I currently belong to the "Bernese Mt. Dog Club of America" and "Heart of Michigan Bernese Mt. Dog Club" both of which have helped me in so many ways to learn all that I can about this amazing breed. If you feel that a Bernese Mountain Dog is the right breed for you please feel free to contact me. I will help you find that special puppy if not from me; than from another responsible breeder. Thank you for visiting my site, I hope you enjoyed it!